Presenting Kelly Clarkson Because of you sheet music. Learn more about the singer: Because of You is the fourth single from the album Breakaway of American pop-rock singer, Kelly Clarkson.
Score and notation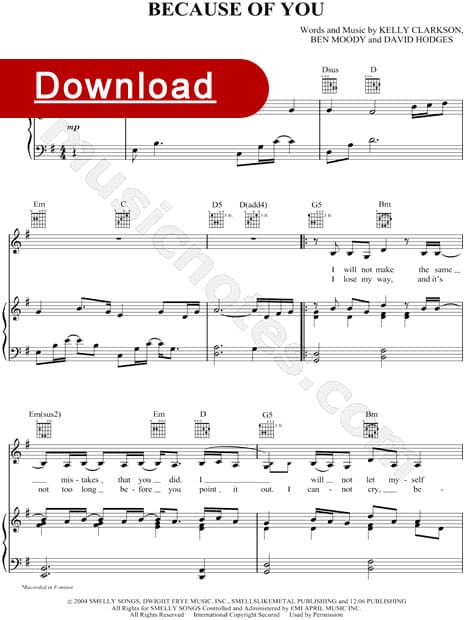 Because of You was co-written by Kelly Clarkson, David Hodges and Ben Moody (ex-member of Evanescence. He co-wrote two songs with Kelly) and produced by David Hodges and Ben Moody.
Video Clip
This is one of the most personal songs to Kelly Clarkson because she had originally written by herself when she was 16 to assist in the difficult period following the divorce of his parents. Kelly Clarkson said she was finally able to forget this trouble with his faith in God.
Several years later, Kelly Clarkson Because of You to give David Hodges and Ben Moody that they could improve the song for her album Breakaway. She tells them she will understand if they do not like the song and if they want to write a completely new with it. On the contrary, Ben Moody and David Hodges were impressed with the song, Kelly Clarkson, they modify it to its final form.
As it has done for Behind These Hazel Eyes, Kelly Clarkson wrote the script for the clip itself is produced by Vadim Perelman. The clip is based on the true story of the troubled childhood of Kelly Clarkson. Due to the theme of the video, she asked permission from his parents before to create it. The little Kelly Clarkson is played by a girl of seven years.
The video clip was officially launched October 3, 2005 in the United States. He quickly climbed the charts, finally reaching the top spot.