Presenting Elvis Presley Can't Help Falling In Love Sheet Music. This is a sentimental song made ​​popular by Elvis Presley in 1961. Inspired by the French song Plaisir d'amour, it was written by George Weiss, Hugo Peretti and Luigi Creatore.
Download Piano score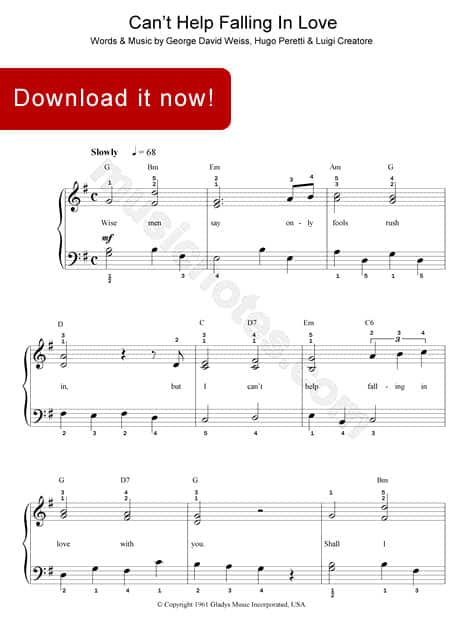 Original version of the song
Elvis Presley recorded Can not Help Falling In Love March 23, 1961 at Radio Recorders studio in Hollywood for the film Blue Hawaii (Under the blue skies of Hawaii). The song (making # 29) first appeared on the soundtrack of the film on October 1 of that year, then single, November 22 (RCA 47-7968) with, on the flip side, the song Rock-A-Hula Baby. Can not Help Falling In Love has reached the second position on the Billboard Hot 100 in the United States, and the first position in Britain. A gold record was assigned to the single, 30 March 1962 by the RIAA. The version of the film, known movie version, is the 23rd made.
Can not Help Falling In Love was taken by the singer for the show NBC-TV Special. This version appeared on the album of the same name November 22, 1968. From 1969 and for the rest of his career, the singer has included this song in his repertoire for the stage and, in most cases, he concluded his concert with it.
Music Video