Presenting Bruno Mars Marry You sheet music. This is a song by singer-songwriter from Honolulu, Hawaii, part of his debut album, Doo-Wops & Hooligans. The song was written and produced by The Smeezingtons.
Score & Tabs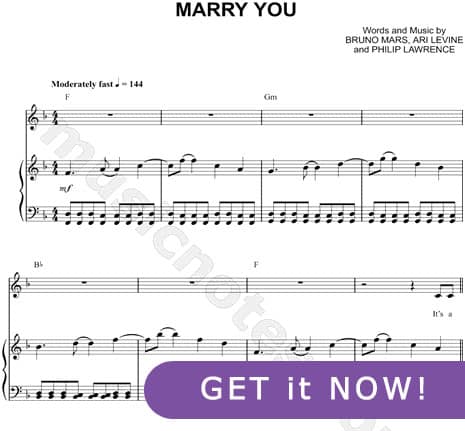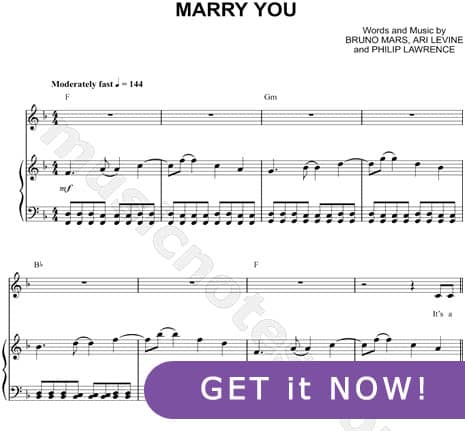 The letter talks about a spontaneous idea of ​​marriage. It was to be released as a single on August 22, 2011. It entered the charts in several countries including the U.S., UK or Canada. It received mixed reviews.
In November 2010, the song was played in the television series Glee.
Background and composition
The song was written by Mars, Philip Lawrence and Ari Levine, and was produced by The Smeezingtons. The song has elements of pop and R & B. "Marry You" is a song of love, which is about a couple who suddenly decides to marry. It lasts three minutes and fifty seconds. It is made common beat and the F major tonality with a tempo of 144 beats per minute. The Mars vocal range extends from C4 to D5 note.
Official Video
Reviews
"Marry You" received mixed reviews. Tim Sendra of Allmusic said the song is "pleasantly silly" but praised his "dynamic and nuanced production." Idolator Becky Bain was impressed by the song, describing it as "a marriage of Motown song." Jack Foley IndieLondon said the song is "extremely catchy" and "is another simple striking Bruno Mars and back to love-smart pop of" Just the Way You Are "".