This is Shakira Waka Waka (This Time for Africa) Sheet Music is a song by Shakira and the South African group Freshlyground. This is the official music of the FIFA World Cup 2010 held in South Africa.
Notation and piano score for Download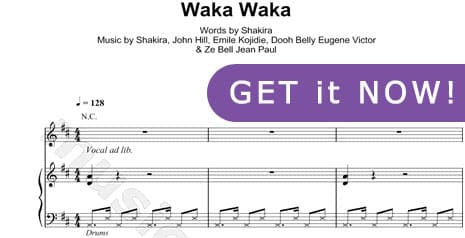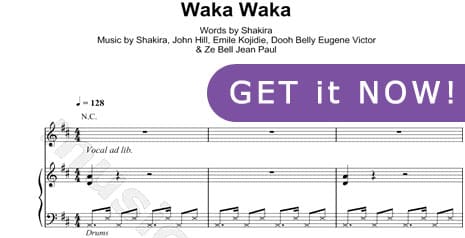 Shakira and the band Freshlyground have interpreted this as June 10th, 2010 at the opening concert of the world's Orlando Stadium in Soweto and interpreted again during the closing ceremony held July 11, 2010 in the Soccer City stadium in Johannesburg. Waka Waka has already sold over 5 million copies worldwide and was ranked number one in over forty countries. It became the title compound for the World Cup's best-selling history.
Waka Waka is from the album Listen Up! The Official 2010 FIFA World Cup album released May 31, 2010 and also appears on Shakira's new album, entitled Sale el Sol, available since October 18, 2010.
The refrain of Waka Waka is taken from the song Zangalewa, which was originally an African war song that subsequently taken up and interpreted by the group Golden Sounds Cameroonian who has been with this as a great success in the years 1980. While rumors of plagiarism had emerged right out of the title, the group Golden Sounds at a press conference said that they had negotiated in advance with Sony Music Entertainment, which produces Waka Waka, resulting in an agreement between the parties . This adaptation by Shakira is seen as a recognition for the group, which plans to reform.
Official Video
About the title, Shakira said on his official website: "I am honored that Waka Waka (This Time For Africa) has been chosen for the 2010 World Cup. The FIFA World Cup is a global event, linking all countries, all nationalities, religions around the same passion. It represents an event that has the power to unite and integrate, and that's what this song is. African music is so inspiring and able to find its place in pop culture world. I am very proud to have worked with one of the most acclaimed in South Africa, Freshlyground ".
The refrain of Waka Waka language is interpreted and the part of Fang Zolani Mahola group Freshlyground in Zulu.