Presenting an American singer: Katy Perry Firework Sheet Music. The song was written by Perry, Mikkel S. Eriksen, Tor Erik Hermansen, Esther Dean and Sandy Wilhelm.
How to play it on piano?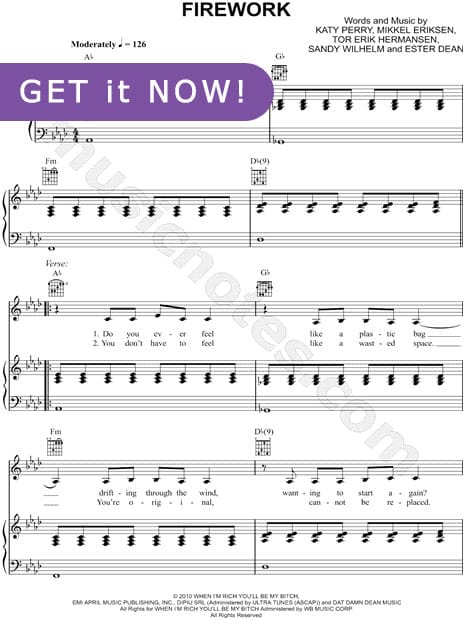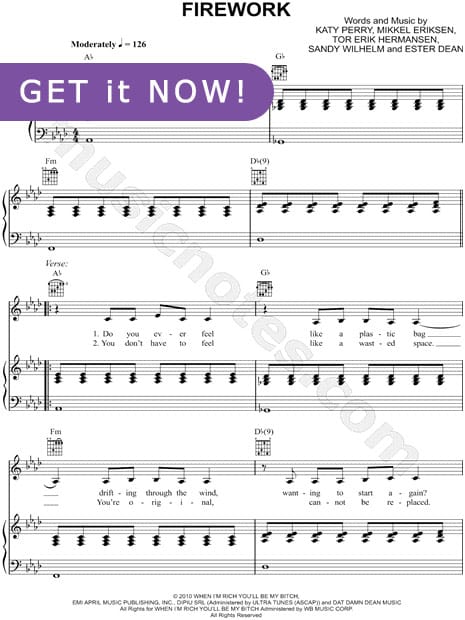 It was released as the third single from the album Teenage Dream on October 26, 2010.
Music Video
The official video was recorded September 28, 2010 in Budapest, and its director is Dave Meyers. Video opens with Perry staring over the city from the balcony when the chorus sings songs from her breasts shoot fireworks. In the video there are several topics including overweight shy girl who finds the courage to jump into the pool with friends, a girl suffering from leukemia, which overlooks the street despite the loss of hair, attacked a man in a dark alley, which presents the bandits before their magical abilities and a boy who calms quarrels parents. The final scene shows young people dancing together with Perry in the courtyard of the Royal Castle. With their bodies shoot firework. Video premiere took place on 15 October 2010 Vevo channel.