Sometime in the year 2011, an idea for a song was born when Adele Laurie Blue Adkins got upset that her ex kept "turning the tables" on her during their fights. Ryan Tedder (co writer of the song) later used the idea of the "turning tables" and turned it into what is now a well know song.
Piano Score and Notation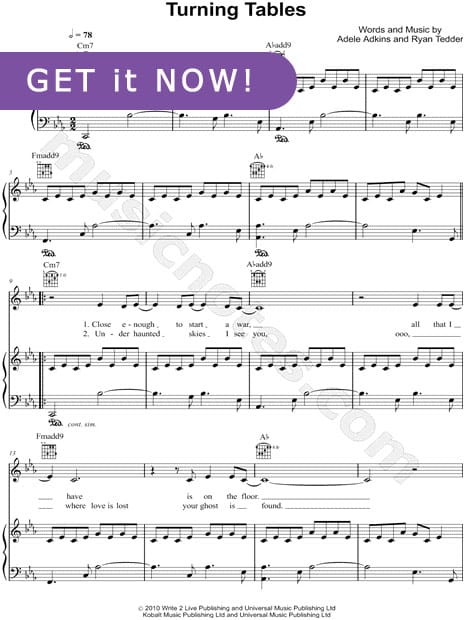 The song is written in a C minor and Adele's voice ranges from G3 to C5. It has 78 beats per minute and is written in common time. As many of Adele's songs this one is also a pop/soul song and is 4:10 minutes long. The label of the song is XL recordings. Like many of her other songs, this one was also put in her album 21 which was released on January 19. 2011. The lyrics of the song describe a breakdown of a relationship.
Like many of her songs, this one also got many good reviews. John Murphy said that this song was one of the best ones in the album. He also added that "turning tables" is a fragile piano ballad which shows off Adele's wonderful voice. Adele's voice sounds "epic" wrote a writer of the Daily Herald. Ian Walker said that the song has some of the albums greatest moments. Joseph Viney even commented on the song saying that it is a delicate ballad that possesses and astonishing beauty.
Official Music Video
After it was performed by Gwyneth Paltrow the song became the number 63 on Billboard hot 100. Latter it also charted on Canadian Hot 100 as number 60. In the UK singles chart it charted number 62 with 4,320 sales and it even became number 81 in Australia.
Many times, Adele even performed the song. She performed it as the opening song to the Jonathan Ross show. The song was even part of the set list on Adele's tour called Adele live. Glee later created their own version of the song and it sold 3,513 copies and charted on number 75 on the UK singles chart.
Adele has written many songs, yet of all of them this one shows the most emotions, which is one of the reasons that teenage girls really like this song. Many teenage girls who like to sing look up to Adele, because of her talent to sing and to write songs. Many find her songs inspiring. Yet no one can deny that Adele is an amazing singer with an obvious gift for song writing.